We've had some queries off people about when rehearsals are each week and who needs to attend? Along with whats going on during show week? 
Well don't fear any more because here are the answers!
Tuesday's
Oasis Christian Centre
7-9pm
All Actors
Wednesday's
Ysgol Llywellyn
Infant Hall
7-9pm
Full Company
Saturday's
Christ Church Sports Hall
10am-12pm
Full Company
And during show week it will be like this:
Sunday
get in (leaders only)
Monday
no rehearsal
Tuesday
oasis christian centre, 7-9
Wednesday
ysgol llywelyn
Thursday
town hall – full rehearsal
Friday
show night
Saturday
show night
Sunday
get out (leaders only)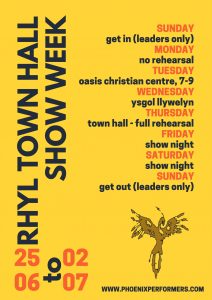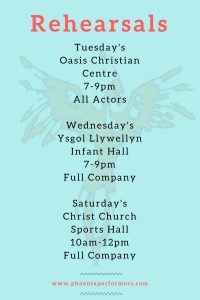 Hope this helps to clear information up!
Don't forget tickets are available at every rehearsal!
Phoenix Performers 🙂